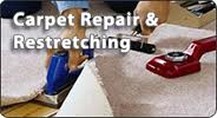 Green Clean Fresh carpet repair technicians can handle all types of carpet repair needs, including major carpet repair such as fixing holes, large permanently stained areas, and padding and tack strip replacement.




We walk on carpets, play on carpets, entertain, and so much more – so it's no wonder carpets get worn and torn. Here is a list of the kinds of carpet repair issues we've helped solve since 1987:
Pet stain repairs and odor
Pet bites, holes, and tears
Cat claw holes and loose fibers
Burn holes from cigarettes and candles
Rust and permanent stains, such as Kool-Aid, Lipstick, etc.
Ruffled carpet, wavy carpet, loose carpet
Loose carpet seams
Flood damage
Carpet snag
Bleach stains
Carpet ripple
Carpet bulge
Carpet threshold additions between rooms
Carpet matching
Melted carpet
Carpets detached from tack strips
Missing tack strips and rotted tack strips
Exposed seams

Carpet Repair Proffessionals
Request a service today from Green Clean Fresh to wash the dirt out of your
home with upholstery cleaning and Carpet Repair in Atlanta, Georgia.